Let us introduce our staff.
Dr. Maureen Saunders- She has been practicing Veterinary Medicine since graduating Cornell University in 1987. Her enthusiasm of her profession has kept her loving what she does after more than 25 years. Her clients appreciate her dedication and trustworthiness to their pets. She is so excited about the opening of her new facility. She also is owner of the Cat Care Clinic of the Nyacks!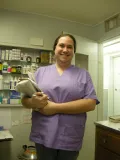 Lisa Marcus is our receptionist at the Spring Valley office and also is our reception manager ! We are so happy to have Lisa as the voice of Spring Valley Animal Hospital. She makes sure that everything is in order. especially during these busy times. Her good business skills and compassion encompass our goals.

After many years, Lindsay has begun her professional career as a Registered Nurse. We wish her all the best and will miss her!

Christine Coulouridis began training with Lindsay back in Oct. 2019 as Lindsay pursued her goal of becoming a Registered Nurse. She is our receptionist at the Cat Care Clinic. In our busy office. She keeps things moving smoothly during this crazy COVID times. She doesn't let anything stress her and really she has been working through the most stressful, trying times in most people's lives.
Noelle Loughran has been working as a receptionist at both the Spring Valley Animal Hospital and the Cat Care Clinic of the Nyacks since 2015. She has been trained as a human phlebotomist but enjoys working at our Veterinary office better!!

Jessie Barragan joined us as an internship through Rockland Community College and now is going to Mercy College to become a licensed Veterinary technician. Her enthusiasm has been so contagious, we all get to smile even more!!! Since completing her Veterinary Technician program in 2021, Jess has become our Vet assistants' team leader and is helping make our staff the best they can be!

Mairead Bramm joined our team after deciding that she would rather work in the Veterinary field than in the human medical field! She has been constantly learning new things and it is always a pleasure to work with her. She is so caring and the animals definitely sense it!

Jess Ganay- we call her Jess G or Jess2!!! Aug. 2021-Jess has now moved to Ohio to start her 1st year at Ohio State for the Veterinary program. We are SO EXCITED for her to pursue her dreams of becoming a Veterinarian!
Aug 2021-Since losing staff members to relocating to Las Vegas, going to becoming a Veterinarian, pursuing other careers, we have just recently hired new staff that we are so excited to be part of our Veterinary team!!!