We are so proud of the new Spring Valley Animal Hospital. We are so excited. We are in the process of redoing our boarding section to make it even more beautiful and fun for the animals. Watch our progress! We now have an fenced in area to allow the dogs to have a little exercise time while they stay with us.
Dr. Saunders got interviewed for this article which posted on Nov. 10, 2014 about potential pet poisons in your home. http://www.alternet.org/personal-health/people-food-can-kill-your-pet!
The Dog Swim at Spook Rock Pool was on Sept. 1, 2014. Ike Guglielmo and Patches Citron were among the swimmers. What a glorious day. Next year, we have to get more of our patients swimming before the close the town pool. Enjoy the short video. Click here
We had our Bark for Life at Bear Mountain for the American Cancer Society on April 27, 2014 Our team "Spring Valley Animal Hospital" was a huge success!
Team "SpringValley Animal Hospital" 2013
Click on this to see our Bark for LIfe 2013 video
Click on this link for more pictures from DOG WALK 2012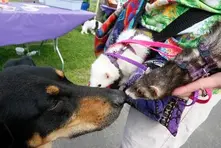 Journal News Articles about our local dog parks-
For those of you who don't know, we have two designated dog parks in Rockland County- Kakiat Park in Suffern and Kennedy Dells in New City. The Journal News has written a few articles about them and one of our clients, Marcia Citron, got to be interviewed about taking Patches to the Park. Please click on our link to see the entire article and others about our local dog parks!
http://rockland.lohudblogs.com/?s=kakiat+park
http://rockland.lohudblogs.com/?s=kennedy+dells
http://www.lohud.com/apps/pbcs.dll/article?AID=20104250340
.