We're pleased to offer the following services in our Airmont Veterinary Hospital.
Appointments
We do work by appointments. However, our receptionists and team will attempt to accommodate all requests to the best of our ability, even if its short notice! We pride ourselves in staying on schedule so that our clients do NOT have to wait to see the doctor or technician.
Emergency & Urgent Care
Emergencies are accepted anytime our clinic is open. If you feel you have an emergency with your pet, please call us immediately. We definitely recommend calling before coming in so that a staff member can advise you on your particular emergency and the doctor can be readily available. Although the animal hospital is NOT a 24 hour facility at this time, Dr. Saunders usually has her pager on to receive emergency calls. Call our animal hospital at (845)356-8616 and listen to the message tape to receive further instructions.
We are also available for urgent care when the condition is not life-threatening, but you feel your pet needs to be seen before you are able to get a routine appointment. Our veterinarians will work to "squeeze" you in between scheduled appointments. When you arrive, our receptionists will be able to give you an estimate on how long you may have to wait in order to be seen.
Spring Valley Animal Hospital, can care for many types of pets:
Dogs
Cats
Rabbits*
Pocket Pets*
Ferrets *
Birds*-on a limited basis
*Select veterinarians only. Call us for more information.
Spring Valley Animal Hospital accepts payment via cash, check, MasterCard, Visa, AmEX, Discover & Care Creidt. So that we can continue to provide you high quality service utilizing the best medical technologies, we request that payment be made at the time services are rendered.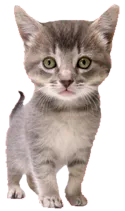 We provide estimates for all surgeries and hospitalizations. If you have not received an estimate, you are welcome to request one at any time for your expected charges.
Spring Valley Animal Hospital offers discounted services to senior citizens and local area rescue groups. Pre-approval is required to qualify for the rescue group discounts, please call us for more information.